5.31.18 - Welcome new friends
We've got a few new sites coming your way this month! I am about to put the finishing touches on a site for the site for Fairmount Contractors out of Elkin North Carolina. I just started a new website for "Skyland Lakes Golf Club" who reside in the Beautiful hills of Fancy Gap Virgina. Check them out!  I just took on a church website for First Christian Church of Clemmons and should be going live with that this month.  I'm also working on building a cool Instagram business page since the recent addition of video features has made it a little more market friendly. Stay tuned for that and I hope you guys are having a killer summer!

2.31.18 - A few new additions
We've got a few new sites coming your way this month! I am about to put the finishing touches on a site for Brushy Mountain Aero, a general aviation mechanic company out of Elkin North Carolina. I just started a new website for "601 Storage" who has a nice set of storage units here right off of Hwy 601 in Yadkin County.  Sweet Home Carolina Winery has an existing site that I am doing a re-design on this month so that should be updated soon as well.  Lots of cool video related work will also start showing itself here soon so stay tuned!

6.30.17 - What a year it has been
I know its been a minute since you've heard any news on what I've been up to the last several months.  Our parent company, DRS Technology, went from a three man team down to just two of us late last year. Some of you may know I am also the shop manager at our retail location. So between running things there along with web service, logo design, and working on some awesome video related projects, I've had quite the time trying to balance it all.  Things have finally started to settle into a nice groove and I'm ready to start taking on some more web clients. If you are a small business or planning a startup, give me a shout and we can talk about what I can do for you to help you grow. Also, stay tuned for some exciting website news coming your way in August!
12.31.16 - Video Marketing Service
So its the last day of 2016 and I have a few exciting things coming up in the new year. One of the first is a service we are now offering to businesses or individuals wanting to promote or market online. Video is the fastest growing medium currently online. A quick 20 or 30 second video spot on social media can potentially generate thousands of views within an hour. Contact us today for more details on this service.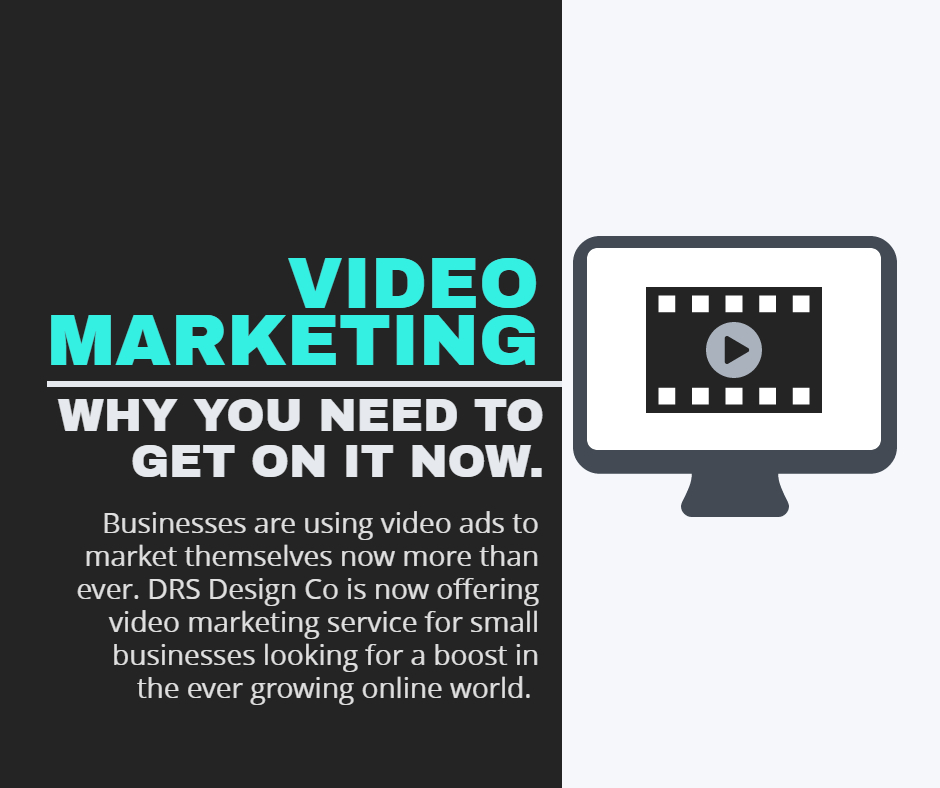 10.7.16 - Website Launches
Wow this has been a busy season so far! River Valley Eye Associates will go live next week as well as Snuggle Sleeve. I am finalising some changes on Professional Air Systems website this week and they should go up soon too. I also started a new storage website for Storage Now Us in Clemmons NC and will probably knock that one out over the next 3 weeks. I'm excited to have so many new projects to keep me busy so stay tuned or contact me if you'd like to discuss having a site built for yourself or your business. 
9.10.16 - New Family Members
I'm super excited to be adding two more companies to the roster this month. River Valley Eye Associates here in town is opening there doors on September the 26th to the public and there new website will probably go live by next week sometime. We are excited to see where the business goes for these guys and both eye doctors have great reputations in the eye care industry so that should be fun to watch. Also, a new startup that you new mothers out there will be excited about is called The Snuggle Sleeve. They make really cute stroller pillows that look great and serve a specific function. I've had the opportunity to work beside them while they are getting off the ground and they are very passionate about what they are doing. You'll have to check them out when the new site goes live very soon. 
8.11.16 - New Clients Everywhere
Our first year as a dedicated web design service has been incredible and I'm truly humbled to have such great people I get to work with every day. Sometimes when things get busy, its easy to get in a panic about not having enough time to accomplish everything, but I'll never take for granted how great it is to get paid to do something I love. Go check out our Sites page for new projects and stay tuned for some really cool things we've been working on recently.
11.11.15 - Happy Holidays!
I love the holidays and this year has certainly been more than kind to me and to this business. We're starting to create a nice little web family here at DRS Design Co. and one thing im thankful for is that there are such a wide variety of businesses that have reached out to us wanting a website. I'm always a fan of diversity and I really love the idea of having websites that cross through completely different focuses. If you have a small business or interest that's unique and would like someone to help bring that creativity to the web world, I'd be honored to be your guy. Happy holidays everyone and don't get too stuffed this thanksgiving!
Howdy folk's! Our first few months have been much busier than I could've imagined they would be. We launched a site for a law firm out of winston, started a construction companies home page, and just went live with a site for our parent company, DRS Technology. I've signed on to start a few more this month but for a quick view of what's already been done, go check out our new sites page. 
Well hello world. We're finally up and running with our official website and . I'm going to try and make this site as user friendly as possible for everyone. Hope you enjoy your time here guys and please do drop me a line and say hello!
We've had quite the busy 2016 here at DRS Design Co. and we wanted to give you just a quick update on whats new. Last month we had a new Couponing Blog, "Dollarz & Sense" go live. Sharon Phillips is the blogger and she was a lot of fun to work with. She has some…
I like this. Show me more...
We started this service earlier this year simply to streamline the web design portion of our business at DRS Technology. More and more customers were asking us about doing websites for their businesses or small companies. We felt we could better serve them if we kind of made the service into its own thing. We…
I like this. Show me more...
We build elegant, functional websites with the future in mind. All our sites are done in WordPress with the most up-to-date plugins and editing software available.  Technology is constantly changing and evolving, and at DRS Design co, we change with it.
We build, store, and edit our websites on our own servers locally. This means better support and more hands on security. Our web design services being in-house means you are able to rest easy knowing your website is in good hands and your data is safe. 
DRS Design Co. is part of an ever growing network of business partners that includes DRS Technology Inc.  When you do business with us, you can feel good knowing we're supported by a solid company with a great reputation for over 30 years.